The microwave oven has become one of the most necessary appliances due to its features and versatility that reduces pressure on women and decreases their work load. The efficient processing and easy microwave oven uses make the microwave oven a valuable appliance.
But sometimes sparking can appears inside the microwave oven cavity. We are giving some possible reasons for sparking inside the microwave oven cavity. So you can use your microwave oven safely.
5 Common Reasons of Sparking inside the Microwave Oven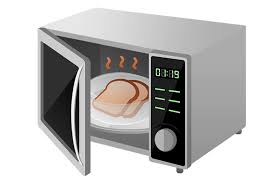 Sparking inside the microwave oven is a common situation it does't means that your microwave oven has gone damaged. When a microwave oven sparks most people scared.
This situation is not so big as you think. When sparking happen inside the your microwave oven then immediately switch off microwave oven and check out the following reasons what we are discussing. The possible reasons for sparking and arcing inside the microwave oven are:
1. Metal Scarp inside Microwave Oven
A small metal piece can spark inside your microwave oven suppose for example you have cleaned the microwave oven with steel scrub and left some metal scrap from the scrub inside the microwave oven this can spark inside the microwave oven cavity. Sometimes the food which you heat has a foil covering over it, this can spark. So make sure that there is no metal scrap inside the microwave oven cavity.
2. Damaged Wave Guide Cover
There is a cover called wave guide cover over the magnetron which guides the heat waves to the central area of the microwave oven cavity where food is kept. Wave guide cover also prevents entering of any food particle into the magnetron.
It is common that during cooking, some food particles stick to the wave guide. The heat emitted from the magnetron burns these stuck food particles, which appears as a spark to us.
This spark damages the wave guide cover. A damaged or shorted wave guide cover causes frequent sparks. So the solution is to remove the burned wave guide cover and replace it with a new one.
3. Damaged Rack Support
Some microwaves oven have a rack supports, which is a hook like part. If the microwave oven is sparking near one of the support rack, this means that the paint on the rack has worn out. So remove the support and replace it with a new one.
4. Diode Burn
The high voltage diodes could be shorted or burned, due to this sparking can be inside the microwave oven.
5. If you are not using Microwave Oven safe utensils
There is a possibility that you're using utensils which are not microwave oven safe. If your utensils are not microwave oven safe then there are chances of sparking. So make sure that before you start cooking food in your microwave oven check that your utensils are microwave oven safe.
So next time if you see spark inside your microwave oven, do not get scared. Immediately switch off the microwave and do the necessary inspection before calling a technician.
Also Read Top 10 Kitchen Chimney in India 2021.
Also Read Which is Best Washing Machine in India Reviews and Buyers Guide 2021.